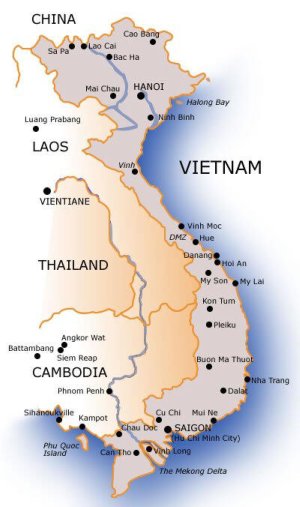 VIETNAM
The Socialist Republic of Vietnam
You will be overwhelmed by the sublime beauty of the country which provides a natural setting to a 2000 year old civilisation. Some of asia's finest cuisine,dramatic landscapes and elegant colonial cities all within one country
We have a selection of tours covering all parts of the country including overnight cruises in Halong Bay and train journeys.

ESSENTIAL VIETNAM
GRAND VIETNAM
SAPA TO THE SEA
VIETNAM EXPERIENCE

VIETNAM HIGHLIGHTS
NORTH VIETNAM UNVEILED
VIETNAM ODYSSEY
VIETNAM INSIGHTS

*GOURMET TREASURES *GOLF DELIGHTS *BIKE RIDING/TREKKING IN SAPA
Our tours in VIETNAM The itineraries shown below are designed to give you a flavour of what is possible and can also be tailored to your requirements.

Essential Vietnam
Vietnam Experience
16 days from £1195pp
Land only. Comprehensive North/South tour including a cookery class and time to relax on Nha Trang Beach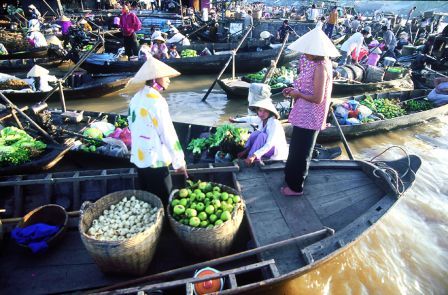 Vietnam Insights

19 days from £1475pp
Land only North/South extensive tour taking you through some of the most stunning scenery in Asia.
.

Vietnam Odyssey
16 days from £2399pp
Land only. Comprehensive tour with Hanoi, Halomg Bay. Sapa, Danang, Hoi-An, Nha Trang, Saigon Mekong Delta.
Day by Day Itinerary
See exciting places and people in VIETNAM from our photo links.
VIETNAM HAS SOME WONDERFUL BEACHES!
We can "tailor-make" your beach holiday for any duration at Nha Trang, Mie Nie or Phan Thiet beach resorts. Here you can enjoy fine dining and fresh local seafood; spend an exciting day windsurfing or a reclusive morning at the White Sand Dunes or shop at the village markets for cheap clothing, local produce and traditional arts and crafts. Mui Ne beach and the surrounding Binh Thuan province have everything to offer. In this area they have winding rivers teeming with fresh fish and crabs; tall mountains with bamboo rainforests and pristine waterfalls. Mui Ne has become the kiteboarding and windsurfing capital of Vietnam.Likewise, neighbouring Phan Thiet has on of the finest 18-hole golf courses in the country.
FOR MORE INFORMATION ON VIETNAM or TO MAKE A RESERVATION:
email: info@quintessentialtravel.co.uk

NEW!
CLASSIC VIETNAM -
12-day fully inclusive tour from UK from £1668 pp
DIRECT FLIGHT FROM GATWICK TO HANOI & RETURN FROM SAIGON
This is a seat-in-coach programme with weekly departures (min 2 persons)
SAIGON- HUE- DANANG- HOI-AN - HANOI & HALONG BAY (cruise)
Guaranteed departure dates (subject to operation)
Extension tour available to Cambodia/Angkor from only £455 pp
*SEE THE HOTELS WE USE ON THIS TOUR
Look at the DAY to DAY Itinerary