Where to go in Cambodia?
Most visitors fly in to Siem Reap, visit the Temples of Angkor, and then leave the country. This is a real shame as the rest of the country is filled with fantastic natural beauty and historic temples. So, depending on how long you have and where your interests like, the guide below can help you plan your trip.

To truly experience Cambodia, you need to spend a few weeks travelling around. Natural attractions range from the northeastern jungles, to the lovely beaches of Sihanoukville, and the mighty rivers that cut across the country. Our staff and guides are enthusiastic about their country of residence and are more than happy to help you plan a journey perfectly suited to your needs. Whether you seek luxury travel, an adventurous journey, or a classic tour of Cambodia's main sites Quintessential Travel knows the best program for your holiday.
When to go in Cambodia?
The winter months (October to February) are the best time to travel to Cambodia as the air is cool and the skies are clear. However, the dust at this time of year can be irritating and the crowds at the Angkor temples are at their highest numbers. March to May sees hotter temperatures and dry skies, and the heat continues in to June through August when the monsoon season starts. The rains, however, do not usually cause a major problem for travellers as they tend to be short- but hard- afternoon showers.
The Cambodian water festival in October is a lively affair with 3 days of dragon boat racing taking place in Siem Reap and Phnom Penh and Buddhist New Year in April sees families gathering at temples to celebrate. Although both are spectacular events, several restaurants and shops are closed meaning slight disruptions may occur in your travel plans.This is a guide to the best of the best of Cambodia. We've provided ideas for travel, sightseeing and accommodation with a few insider tips along the way.
Our 10 day Cambodia in Depth tour allows you to uncover the country's culture and historical artefacts through various outdoor activities. Start in Siem Ream with a bird's eye view of Angkor Wat on a helium balloon. You will also visit local villages, explore less visited temples, and enjoy a boat ride along the Mekong River. Kick back in the country's beautiful and unspoiled beach resort in Sihanoukville before returning to Phnom Penh and a relaxed exploration of the capital city.
Day 1 - Arrive Siem Reap
Arrive in Siem Reap and transfer to your hotel. Siem Reap is the base for exploring the fabled temples of Angkor, the ancient capital of the Khmer Empire. Start with a visit to the Roluos Group, the oldest temples in the region including Preak Ko, Ba Kong and Lo Lei. The day ends with a spectacular sunset ride in a tethered helium balloon for sweeping views of the surrounding temples and countryside.
Overnight in Siem Reap.
Day 2 - Siem Reap (B)
Today there is an early start to catch the sunrise (optional) before returning to the hotel for breakfast. Then depart to visit Angkor Thom's famous South Gate where you will take an elephant ride to Bayon Temple which depicts intricate scenes of traditional Cambodian life.From the Bayon continue on foot to the Baphuon, recently re-opened to the public, where you will pass by the wooden Royal Palace. Then continue to the Terrace of the Elephants where a parade used to be held for the king. In the afternoon continue to Srah Srang, Banteay Kdei, Chau Say Tevoda, Tommanon and the fabulous Ta Prohm Temple, embraced by the roots of enormous fig trees and gigantic creepers. Overnight in Siem Reap.
Day 3 - Siem Reap (B)
After breakfast, drive to Banteay Srei, a petite sandstone temple and the famous carved riverbed of Kbal Spean. Visit the landmine museum to learn more about mine awareness, education and the impact of UXOs on the country. This afternoon a tuk tuk ride takes you to Angkor Wat where you will explore this spectacular monument on foot with your local guide. Overnight in Siem Reap.
Day 4 - Siem Reap - Phnom Penh (B)
After breakfast, and depending on departure flight, visit the Siem Reap market and/or the workshops of Artisans d'Angkor (wood and stone carving) and/or the Landmine Museum of Mr Aki Ra. Then transfer to Siem Reap Airport for the short flight to Phnom Penh from where you will be escorted to the hotel. Overnight in Phnom Penh.
Day 5 - Phnom Penh (B)
After breakfast, start the morning with a cycle ride to the Silver Pagoda, the Royal Palace and the National Museum. Later in the day you will depart by car to visit Wat Phnom followed by Tuol Sleng Genocide Museum, the Russian Market and the infamous Choeung Ek 'Killing Fields'. Overnight in Phnom Penh.

Day 6 - Phnon Penh - Countryside (B)
After breakfast you will have a vehicle and guide at your disposal to partake in any of the options below:

- Rice planting and harvesting in surrounding rice fields
- A visit to the silver workshops at Kompong Luong Village
- Trekking through the nearby forest
- A visit to a local village
- A holy water shower from a local monk
- Having your fortune told
- A sunset boat cruise on the Mekong river
Note: Some activities mentioned above depend upon the season
Overnight in Phnom Penh
Day 7 - Phnon Penh - Sihanoukville (B)
After breakfast transfer to Cambodia's most famous beach resort, Sihanoukville. Arrive in around midday and transfer to the hotel where you can enjoy the rest of the day at your leisure.
Overnight in Sihanoukville.
Day 8 - Sihanoukville (B)
Today, enjoy more time at leisure with the vehicle and guide also available. There is an optional visit and boat ride to Ream National Park (not included).
Overnight in Sihanoukville.
Day 9 - Sihanoukville-Phnom Penh (B)
As yesterday, you will be able to swim and relax at the resort with a vehicle on standby before the afternoon transfer back to Phnom Penh.
Overnight in Phnom Penh
Day 10 - Phnom Penh (B)
After breakfast you will be free to explore Phnom Penh at your own leisure before the transfer to Phnom Penh Airport for departure flight.
Note: this tour can also start in Phnom Penh.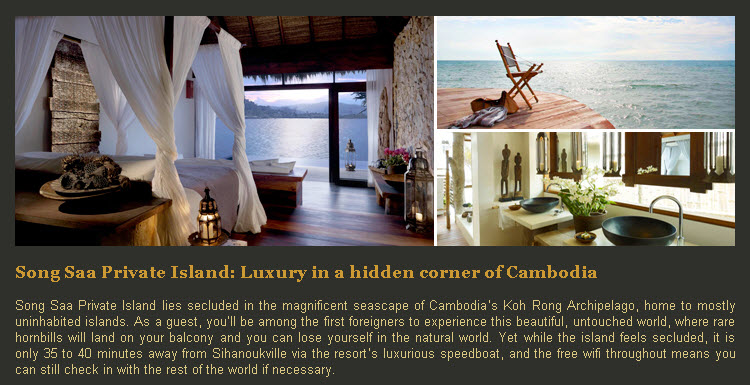 If
you are in search
of a truly private tropical island experience, where you can forget the bustling world, few places rival Song Saa private island.
Please enquire for more information and our special rates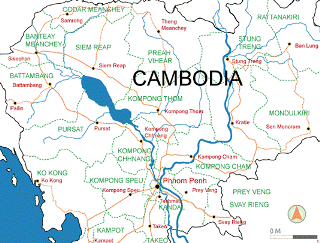 CAMBODIA can be linked with VIETNAM or add LAOS to make a comprehensive INDO-CHINA and a three country tour.
SEE our INDO-CHINA pages for more details.